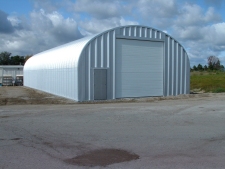 The "S" Series or straight-wall model is in many cases the best solution when it comes to strength, versatility and economy. Giving you totally usable floor space and sizes up to 60' wide (depending on snow loads for your area) this style can be used to solve almost any need. They have been used for everything from cold storage to homes and cottages.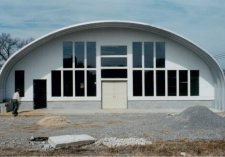 This is a fantastic example of what can be done with a custom end wall. Note that the wall is inset a few arches to give some shade and cover for the front door.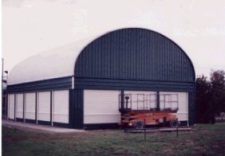 Once again Pioneer's 30+ years of experience can assist you in designing custom applications to suit your specific needs. From bumper car buildings to secure pool covers we can help put the perfect solution together for you. With all of the doors up this is a wide open and airy building.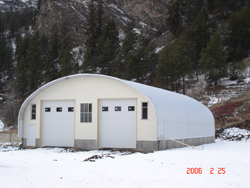 Here is great example of a nice clean double wide garage. This is one of the most common requests we get for a Pre-Engineered building. As you can see it's an excellent and easy way to look after your vehicles, boats or other toys.